SiteKiosk Plus – A secure web browser for kiosks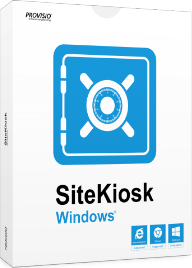 The secure SiteKiosk browser offers solutions to these critical things:
Monitoring and protection of the operating system against tampering, computer vandalism and hacking
Secure system disks, folders, and files against unauthorized access
Protect terminals from viruses, Trojans and malicious scripts
Allow only people authorized by an administrator to access programs and applications
Disable unwanted function keys and keyboard shortcuts
Restricting or prohibiting downloads from the Internet
Allowing the administrator to define which sites / URLs are allowed and which are forbidden
Automatic program restart in case of software error
Deleting user data after the end of the session (security of personal data after the user's departure)
Automatic logout after the specified time
Close all open windows and programs after a session (after a user leaves)
Automatic updates
Schedule days and times when the system will restart or shut down
Recording and storing of all user activities (creation of statistics with security of personal data)
Secure SiteKiosk browser has a large number of additional functions that allow you to set up this application according to individual needs and requirements. All you have to do is decide what content you want to display and leave the rest on the secure SiteKiosk browser.
Using the Configuration Wizard included in all versions of the secure SiteKiosk browser makes setting up the software very easy and fast. You do not need any programming skills. Just follow the guide and step by step set all the necessary features.
Each part of the configuration wizard contains a "Help" button, which will provide you with detailed information about the current setup step.
The browser included in SiteKiosk is able to display the same content that can be viewed in Internet Explorer. Web pages, images (.gif, .jpg, .png, and .bmp), videos, Flash, DPF documents, etc. but at the same time actions are blocked that endanger the security of the terminal.
Plus version includes: Site Content filter (SiteCoach), touch screen support (virtual keyboard) and video email (SiteCam).
SiteKiosk Secure Browser comes with numerous templates and skins designed to meet everything you need.
The configuration tool allows you to customize the interface by adding commonly used buttons and properties. Supplied templates and skins are available for free download.
SiteKiosk secure browser offers a user interface in 20 different languages ​​to adapt to as many users as possible.
Each user can choose a browser language according to their preferences. The SiteKiosk browser automatically switches back to the default language when the user session ends.
Administrator can control and manage many SiteKiosk terminals from a single location. All this is possible when using SiteRemote – free for 30 days or it is possible to purchase a SiteRemote license for 12 months.