SiteRemote – remote control for SiteKiosk SW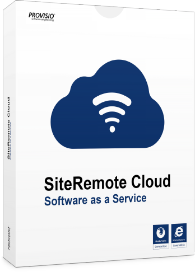 SiteRemote is a server application that allows you to monitor and manage Internet terminals and PCs, where it is possible to install SiteKiosk software from one place (remote administration). SiteRemote is required on the Microsoft .NET Framework. SiteRemote works on Windows 2003 Server together with Microsoft SQL databases.
The client uses SiteRemote in the form of an ASP service, pays a monthly / annual fee for this use and accesses the service via a web browser.
SiteRemote offers many options for remote monitoring and management of computers.
SiteRemote provides a permanent connection between the SiteKiosk terminal and the SiteRemote server, even if the terminal is behind a firewall. The terminal establishes a connection with the server and compares the status of the terminal with the data stored on the server at regular intervals. If the data does not match, the terminal informs the server about its current status and receives new tasks from the server.
SiteRemote can also monitor terminals that do not have a fixed connection (dial-up) or have a dynamic IP address.
To ensure a quick response to a fault and guarantee the highest possible degree of terminal functionality, SiteRemote monitors the workstation and automatically informs the administrator of problems, no matter where they are. SiteRemote is equipped with an automatic warning system that sends notifications of events or errors by e-mail or SMS.
Secure communication between the client and the server is ensured by an encrypted protocol similar to HTTP (TCP / port: 8086). Communication is secured by a combination of RSA and AES encryption. These are used to exchange keys necessary for symmetric coding. Subsequently, the identity of the user computer and the server is verified.
Managing and updating, transferring files, or restarting computers usually takes a minimum of time. However, in the case of hundreds of stations located in many remote locations, these activities would take hours, possibly days, if they were performed manually at each terminal separately. SiteRemote Task Manager allows you to define and perform a variety of updates and tasks remotely, in minutes. The user can define tasks and assign them to individual stations, groups of stations or even all stations. When using SiteRemote, you can also specify the date and time when each task will be performed.
When configuring the SiteRemote address and time zone, you can set the language for each user separately. For example, a team member from New York can use SiteRemote in English while a colleague from Amsterdam can log in to the same SiteRemote in Dutch. SiteRemote supports: English, German, Czech, Slovak, French, Spanish, Italian, Russian and Dutch.